The 6 Best Neighborhoods in Jaipur for Tourists
The Best Area to Stay in Jaipur – Where to Stay in Jaipur India
Jaipur, the largest city and the capital of Rajasthan, is also referred to as Pink City. Built by Sawai Jai Singh, this place was India's first planned city. With panoramic hilltops and stunning forts, Jaipur has become a major tourist fascination among both national and foreign tourists. This royal city delights travellers as it is known for its rich culture and tradition, majestic art and artefacts, and brilliant past. The peaceful temples, the long-standing forts and palaces, and beautiful Havelis with royal touch to them; add on to the glory of Jaipur.
Amazing landscapes, spectacular flora and fauna, scenic views; all together create a mesmerising view of this place. Only forts and monuments aren't the attractions of this pink city, the complex handicraft items and elegant jewellery also catch the eyeballs of tourists. There are many interesting facts about this place that are not known to most people. How about getting a hang of them, they might help you in exploring this royal place Jaipur in a better way. Mentioned below are some of the facts for your ready reference.
This article has affiliate links to products which we may make commission from at no extra cost to you.
Dominating this part of the capital is the magnificent City Palace, still used to house the royal family, while the main attraction – Amber (Amer) Fort – is about 10km to the northeast.
Most of the hotels near to the Old City are along Sansarchandra and near Railway Station road. These are dusty and noisy, but certainly convenient to the inner-city attractions, limited metro services, and train and bus stations. There are some hotels in Bani Park, a suburban area with decent shopping, wide streets, and a likeable middle-class vibe. Around the extensive parks at Rambagh are several top-end hotels featuring the bars, cafes and nightclubs rarely found elsewhere.
Offering even more space and superior shopping are the hotels gathered around the airport and along the main road halfway between the airport and the Old City. More hotels, including a ritzy resort, can be found near the Amber (Amer) Fort as well as alongside the Man Sagar Lake which is conveniently located halfway between the Old City and the fort.
---
The Best Places to Stay in Jaipur
---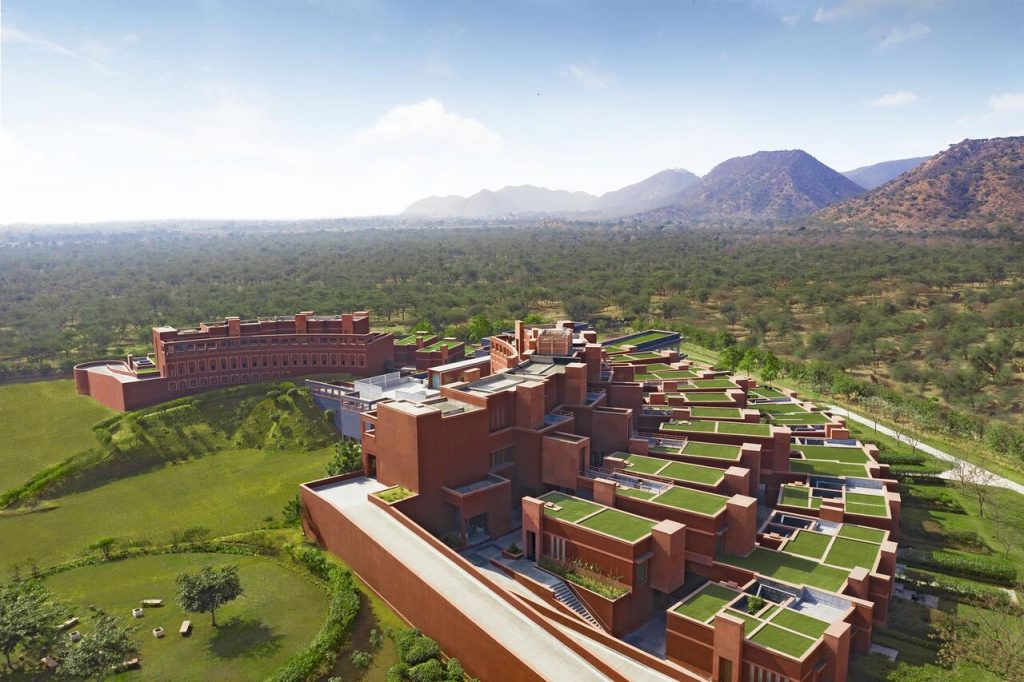 ---
Best Premium 5* Luxury Hotels
The Oberoi Raj Vilas, Rajasthali Resort & Spa, ITC Rajputana, Devi Ratn-IHCL SeleQtions, Rambagh Palace
Best Luxury Hotels in Jaipur
The Raj Palace • Alsisar Haveli • Umaid Mahal
Best Boutique Hotels in Jaipur | Best Heritage Hotels In Jaipur
Best Cheap Hotels in Jaipur
Atithi Guest House • Arya Niwas • Madhuban
---
Best Areas in Jaipur for Sightseeing: Sansarchandra and Station Roads
The main attraction – Amber/Amer Fort – is 10km away from the City Center. It still makes sense to stay near the Old City. These two roads are noisy, but they offer a decent choice of modern hotels and traditional Havelis, Guest Houses. Most of them are within walking distance of the Old City walls and only about 2km by auto-rickshaw from the City Palace.
Where to Stay in Jaipur India
Where to Stay in Jaipur India
---
Best Area in Jaipur for Shopping: Old City
---
Jaipur is renowned across India for its souvenirs and handicraft products, the most enticing places to shop are the Bapu Bazaar, Johri Bazaar (markets) and stalls around the 18th-century heart of Jaipur. Old traditions, where some areas only specialize in certain goods, remain, which is helpful to locals but confusing to visitors. All prices are negotiable and drop further away from the tourist haunts such as the City Palace. Look out for traditional rugs, leather goods, Rajasthani shoes called jutti, tie-die farbrics and gemstones.
---
Best Areas in Jaipur for Families: Amber (Amer) Fort and Man Sagar Lake
---
Jaipur is troubled by the traffic, crowds, noise, but you can still enjoy the tourist spots as they are well kept and cleaner. Staying around the artificial Man Sagar Lake, about halfway between the Old City and Amber Fort, or around the fort itself. Tourist facilities are more limited than in the city centre, but both areas are quieter, cleaner, and more spacious.
---
Best Area in Jaipur for Food & Restaurants: Bani Park
---
Premium Eateries are widespread all over the city, with few clustered in any particular area. Bani Park, which is centred around Collectorate Circle, is an upmarket area of hotels, shops, showrooms and restaurants. Along several roads radiating from this chaotic roundabout are classy vegetarian bistros, Indian-style fast-food outlets, premium coffee shops, restaurants attached to hotels, and even a few bars
List of Few Best Restaurants in Jaipur
Talk of the Town – Located On MI Road Jaipur : Talk of the Town, Jaipour Café & Bar – Jai'pour Café & Bar
---
Best Area in Jaipur for Transport: Station Road
---
This road stretches west from Chandpole Gate, the main access to the Old City. Along the road are a few stops for the metro which will be more useful when two more stops in the Old City are opened in 2021. The bus station (Sindhi Camp) is conveniently just off the namesake road, which also leads to the Jaipur railway terminal. The Jaipur airport is on the outskirts and is just 13km. You can hire an Uber or an Ola Cabs to easily reach, the airport, Or a Railway Station or Bus Station (Sindhi Camp)
---
Best Area in Jaipur for Nightlife
---
Jaipur is developing now, it has many Western-style bars and many restaurants, especially those in or attached to hotels, serve beer and some liquor. We have a list of the Ethnic restaurants and Night Pubs below:-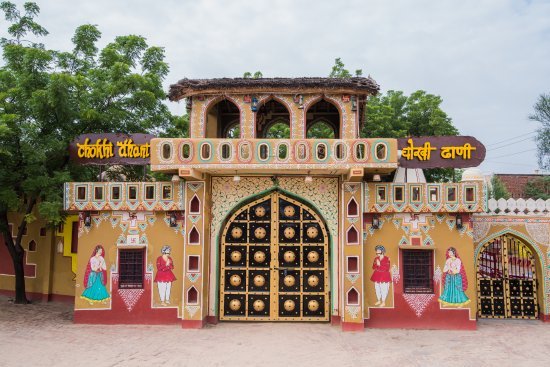 There are 26 Out-of-The-Box Options for Nightlife in Jaipur, out of which we have listed 10 Best Options.
100% Rock
---
Best Area in Jaipur for Vibe & Culture: Old City
---
Built-in the 18th century and mostly painted shades of pink, there is, of course, no finer place to soak up Rajasthani culture and history and a desert-city vibe than the Pink City. The pleasingly broad but always chaotic streets lead to the main attraction: the majestic City Palace. Subsequently, meandering lanes are overcrowded with crumbling houses and hawkers trying to sell their merchandises.
---
Most Romantic Areas in Jaipur: Amber (Amer) Fort and Man Sagar Lake
---
Jaipur's top attraction is the stunning 16th-century Amber Fort set majestically on a hilltop overlooking a charming lake about 10km northeast of the Old City. Staying around the fort – or near the artificial Man Sagar Lake halfway between the fort and Old City – allows several visits to the fort, e.g. for the Sound & Light Show and after dark, when the fort is so romantic. You can hire an elephant ride near Amber fort for a ride uphill or downhill.
---
Safest Area of Jaipur: Amber (Amer) Fort and Man Sagar Lake
---
Jaipur, is one of the safest cities in India. There are tourist police deployed near the Monuments. However there is relentless traffic. The safest areas to stay are the quieter streets near Amber Fort or around the Man Sagar lake halfway between the fort and Old City. These areas are distant from the traffic, dust, and noise of the busy inner city along the crowded streets. You can move around in the Markets of the walled city on foot to explore the pink city.
---